THE GX SERIES
LUXURY THAT
GOES ANYWHERE.
With an elegant interior and enough space for seven, the GX takes luxurious on-road/off-road possibilities to a new level.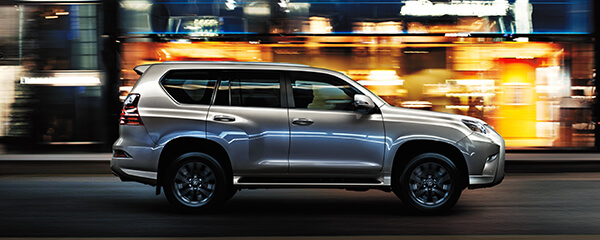 THE GX SERIES
DARE TO GO FURTHER THAN BEFORE.
The GX series offers a six-speed sequential-shift automatic transmission for effortless acceleration and faster shifting response.
Available with a 4.6-liter V8 engine, the GX series lets you take control of the road.

Comfort and amenities in the GX series are as extensive as they are luxurious.
BUILT TO CONQUER

See how impeccable refinement meets off-road versatility in the 2020 Lexus GX 460, and watch it in action as we explore the lush jungles of Costa Rica.

ON THE TRAIL WITH THE 2020 GX 460

MotorWeek took the 2020 Lexus GX 460 for a spin and were particularly impressed with its exceptional ride comfort and elegant interior.
REVIEW

2020 Lexus GX

"Taking the Lexus GX 460 off road quickly illustrates its penchant for climbing hill and dale. A full-time 4-wheel drive system with Torsen limited slip center differential and electronic differential lock suggest anything is possible."

— kbb.com
CHOOSE YOUR GX
9.8

SECONDS
0 - 100 KM/H

200

KM/H
MAX SPEED

292

BRAKE HORSEPOWER