Luxury in the Details
Defining the core character and philosophy of all Lexus products, L-finesse describes Lexus's unique and dynamic design thinking. The L-finesse design philosophy is an unwavering focus on a premium and elegant driving experience — amidst a wealth of complex technology.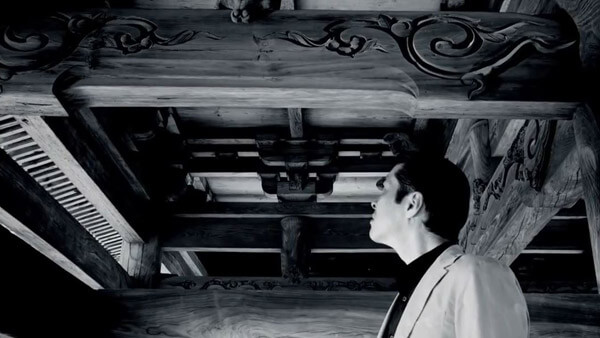 The Takumi Touch
Perfection is not something that can be determined by the most advanced technology. Enter takumi, the master craftsmen who have dedicated their entire lives to perfecting an individual skillset. The takumi at Lexus do the work machines and robots will never be able to. It is only when they apply their masterful touch to a Lexus that the soul of the machine is born.
Explore the Art and Textures of L-finesse
"Thoughtful design" communicates to driver and passengers the feel and experience of a Lexus. Explore below the leading-edge design elements, art and textures developed by Lexus's expert craftsmen.
Shimamoku Ornamentation

One of the first things you notice when you step into a Lexus is the wood ornamentation that adorns its steering wheel, dashboard and door panels. Simple as they may seem, the manufacturing of these shimamoku pieces is in reality a long and detailed process requiring 38 days and 67 specialized stages.

First, Agathis wood is pressed, cured and sliced into wafer-thin sheets. Then a complex layering technique that alternates bands of contrasting color begins as the wood is shaped, sanded, polished and varnished by hand under the exacting eye of a master craftsman.

The result is a shimamoku ornamentation that gives a feeling of spaciousness without austerity and opulence without ostentation.

The Spindle Grille

The spindle grille, a bold and dashing visual feature heralding Lexus's design language of the future, is a Lexus seal of authenticity.

An incredible amount of developmental work was taken to craft it as the perfect embodiment of Lexus. Hundreds of drawings and clay models were put into action, with each part of the grille sculpted and positioned by the slimmest of margins. The end result is a grille with a seamless surface, with even half-hidden parts crafted and finished to exacting standards.

Carbon Fiber Parts

To develop the ultra-light carbon fiber components used in the LFA supercar, a special machine called the circular loom was invented. Weaving together up to 24,000 carbon fiber threads (each 1/10th the width of a human hair) in a cross-checked fashion, the loom builds seamless structures that are 30% lighter than aluminum while being able to withstand wind forces of up to 202 miles per hour.

Highly desirable for both its performance and cosmetic applications, the material can now be found in F models as well as in select Lexus vehicles like the LC.

Unique Chromatic Palette

A key reason each individual Lexus appears unique resides in its paint. As every model has its own character, Lexus designers develop and create new colors from scratch to suit it. The process, which can take up to two years, ensures that each color expresses its own unique vehicle traits.

The RC F, for instance, marks the introduction of two new colors — Heat Blue Contrast Layering and Lava Orange Crystal Shine. There are currently thousands of colors archived and under consideration in the Lexus color palette.

Diamond-cut Forged Wheels

In a vast factory tucked away 250 kilometers from Tokyo, a group of 300 expert craftspeople produces some of the most sought-after wheels in the world. Not only are these forged wheels stronger than their cast counterparts, they also are significantly lighter.

It all begins with the heating of a round piece of aluminum billet to 480°C. Then, placed into a large hydraulic press three floors high, 9,000 metric tons are dropped onto this heated billet to form a mold. This process is repeated twice until the face of the wheel takes shape. Thereafter, spinning, stretching and cooling are applied to the metal to help it retain its strength and lightness.

Finally, to create the samurai sword-like shape and finish seen on F series wheels, an additional diamond-cutting process is executed. In this expensive buffing process, the spokes and rims of the wheel are shaved by a specialized cutter with diamond blades to produce a smooth, clean metallic surface with sharp edges.

Grand Piano Finishing

Previously only reserved for European grand pianos, a process called "steel kenma" is applied to the shimamoku wood seen on the steering wheel, side panels and dashboard of select Lexus models.

Microscopic scratches, delivered to the surface of the final veneer pieces, take unnecessary shine off the shimamoku while leaving behind an elegant and luxurious finish seen only in European pianos. Executed by Yamaha, this is one process that can only be accomplished through the work of a dedicated craftsman; it cannot be performed by just anyone.

Not only aesthetically tasteful, this finish also serves to remove any reflection from the veneers that could potentially distract drivers.

Dedication To Flawlessness

Highly skilled craftsmen in the Cambridge, Ontario, plant physically inspect every visible part of a newly manufactured Lexus by hand.

With 1,800 inspections and 4,000 measurements, every blemish found is fixed immediately, every imperfection traced to its source, and every single measure is taken to ensure the same mistake will never occur again.

As a result of this intensive quality control, the Ontario plant has produced a 98% body accuracy rate for over a decade, the highest assembly level possible. This is the kind of dedication to perfection Lexus commits to in our pursuit of flawlessness.

The Perfect Seat

One of the challenges in building the perfect car seat is the balance that engineers have to strike between comfort and style, since a great looking seat may not necessarily be comfortable. In the Lexus NX F SPORT, however, is a seat that has the best of both worlds.

Its unique upholstering process, with an intricate interwoven cup-shaped stitching pattern, provides an extra measure of class while increasing material strength and comfort. The beautiful artisan dyed leather on the seat, working flawlessly with the form-fitting integrated cushion, offers extra support while delivering an extraordinary dose of luxury.

Innovation To The Smallest Detail

One outcome of Lexus's L-finesse thinking is its innovative cup holder. Lined with elastomer rubber (a high-friction material commonly found in the sole of athletic shoes), this specially designed cup holder allows the driver or front passenger to open a water bottle cap with one hand. It is also resistant to dust accumulation, easy to clean, and does not deform when in contact with oil and grease. This simple cup holder is a fine example of Lexus's commitment to innovation even to the smallest of details.

An Evolution of Color: Structural Blue

Our inspiration for this all-new shade of blue comes from the wings of the morpho butterfly. A closer inspection of its wings reveals that although they are colorless, microscopic details reflect light such that our eyes perceive an iridescent blue.

By creating a similar layer of nanostructures, we produced the first-ever paint that emanates different shades of blue through the manipulation of light. The Structural Blue pigment creates a vibrant color when looked at directly, but appears dark from a different angle, highlighting the car's dynamic design and unique appearance when in motion.

Kiriko Glass Ornamentation

Kiriko glass cutting is a centuries-old technique known for its complexity and unique nature. The doors of the all-new LS are elegantly fitted with a kiriko-cut glass piece for an instantly distinctive character. During the process of glass arrangement, our designers scrutinized the reflection of light when the door is opened and closed to deliver the most pleasing experience for the eyes.

The kiriko glass ornamentation is only available in selected markets. Please contact your local dealer for more information.

Origami-inspired Pleats

By employing a folding technique similar to origami, our pleating transforms a piece of fabric into a work of art. The doors of the LS are layered with these pleats, creating a striking juxtaposition with the kiriko-cut glass. It involves a unique three-dimensional pattern that is carefully designed to be both pleasing to the eye and touch. Each piece of fabric is skilfully folded into beautiful geometric shapes, delivering the finest of Japanese craftsmanship.

The origami-inspired pleats design is only available in selected markets. Please contact your local dealer for more information.
EXPLORE MORE ON LEXUS
Look into the performance world, where achieving seemingly endless power is explored.

Learn how luxury and love for the environment co-exist in perfect harmony.

Explore the award-winning works of directors as they bring their scripts to life.